Contenu
OUR OFFER FOR TRANSPORT PROFESIONALS ON AS 24 MOTORWAYS STATIONS IN FRANCE
Catering offer valid 17th to 14th December 2020:
Throughout the opening range of the motorway stations concerned, take advantage of our catering offer on presentation of your business card.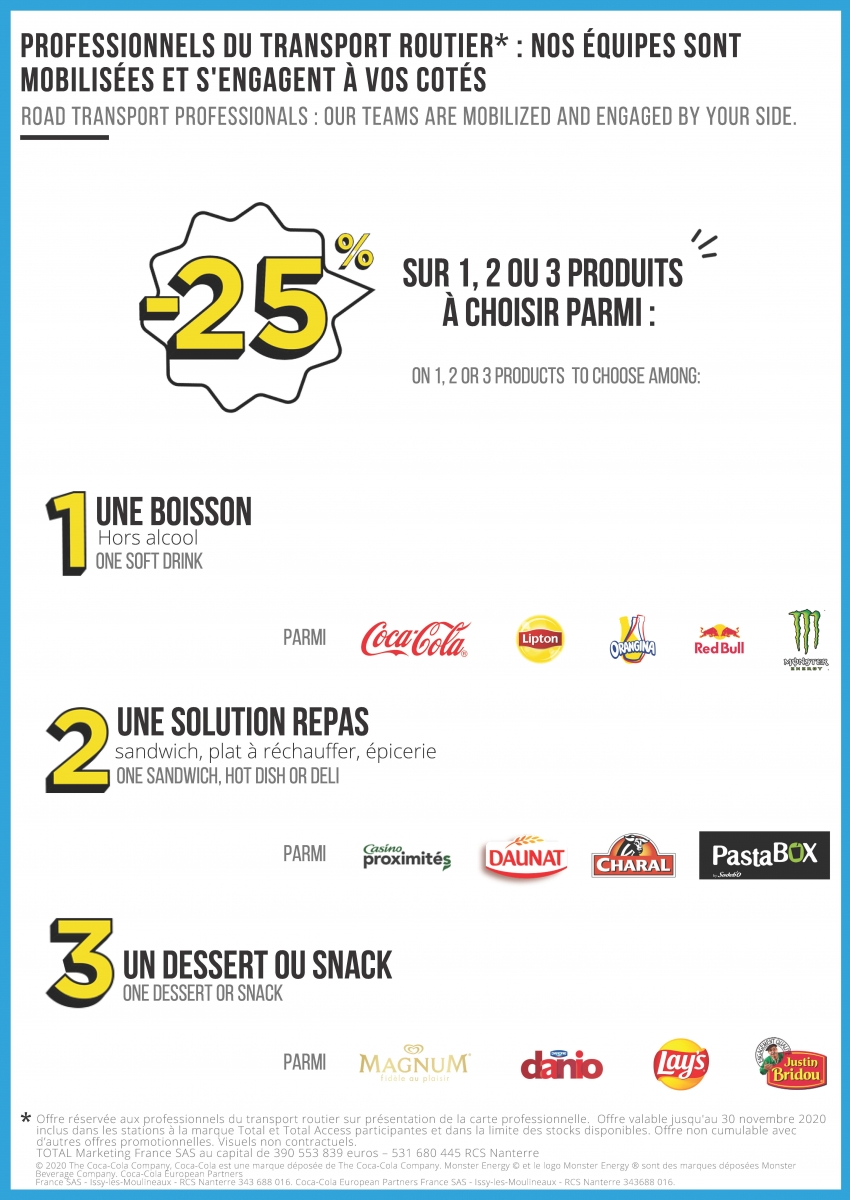 * Offer reserved for road transport professionals on presentation of the professional card. Offer valid until November 30, 2020 included in participating Total and Total Access branded stations and while stocks last. Offer cannot be combined with other promotional offers. Non-contractual visuals.
List of AS 24 stations concerned by the offer:
AIRE DE BEAUNE MERCEUIL
AIRE DE GALANDE
AIRE DES ARDENNES
AIRE DE BESANCON MARCHAUX
AIRE DE LA PORTE D'ALSACE
AIRE DE VEMARS
AIRE DE VILLABE
AIRE DE CHANTERAINE
AIRE DU MANOIRE
AIRE DE VIDOURLE
AIRE DE BEAUNE TAILLY
AIRE DE BOSGOUET SUD
AIRE DE METZ/ST PRIVAT
AIRE DE SEVERAC LE CHATEAU
AIRE D'URVILLERS
AIRE DES TERRASSES DE PROVENCE
AIRE DE CANAVER
AIRE DU VALENTINOIS
AIRE DE BUSSY
AIRE DE FERRIERES
AIRE DE BIDART OUEST
AIRE DE BIDART EST
AIRE DE COMMUNAY NORD
AIRE DE ROUILLE PAMPROUX
AIRE DE LIMOURS/JANVRY
AIRE DE VOREPPE
AIRE DE RESSONS EST